The Intensity
Products > The Refining Theory

The Theory of Refining

Refining is a mechanical action, which was held on the cellulose fiber, which aims to modify its structure giving it features required for a good formation of paper.

Precisely by changing the structure of the fibers on the basis of the characteristics and the quality of the sheet desired, the sector of refining in paper mills is the one with the greatest impact in the final product, in addition to being in the position of main consumer of energy.

Intensity of Refining

Intensity of Refining is calculated with the aim of measuring the severity with which the refining and performances. The results are used to determine the project of plates design.

The value of the cut length increases in plates with bars thinner and smaller spaces, which provides a lower value of Intensity Refining.

As the energy will be distributed by a cut length increased, the transfer of energy will be gentler, providing a better treatment of the fibers.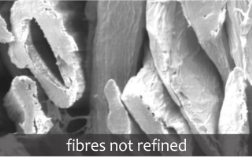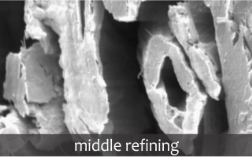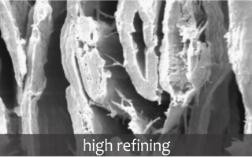 Cost Reduction

The consequent reduction in the cost of manufacture of paper there is in the light of the less production of fines, increase of the machine speed, reducing the weight on the basis of the gain in bulk, the reduction of products manufactured out-of-specification and the reduction of complaints from customers.

With a number of crossings bars (impacts) much higher (in the light of the greater length of bars) the probability of reaching almost totality of the fibers, is also higher. This action of refining smoother causes an increase in the specific area of the fibers through the fibrillation, providing a better resistance to traction and better drainage (Freeness, CSF).

The length of the fibers is preserved with the lower incidence of cutting. The collapse of the fiber is reduced, also reducing the loss of bulk.

The low intensity of refining also contributes to increasing the useful life of the plates by reducing the forces applied on the bars. And with the largest GAP (distance between the plates) the possibility of a contact metal-metal is reduced.
Advantages of Refining in Low Intensity

The results of tests and in normal operation showed that refine bleached hardwood, with intensities below 0.6 Ws/m, provides exceptional benefits:

•

Increased plate life;

•

Increased pulp strength or quality;

•

Reduction of the sheet brakes;

•

Reduction of the refining energy;

•

Better machine runability;

•

Reduction of the fines.

Low Intensity: Bars and channels thinner allow
the more gentle distribution of the energy available
in the refiner.


High Intensity: Bars and channels with a greater
thickness cause a distribution of energy in a more
intense way.